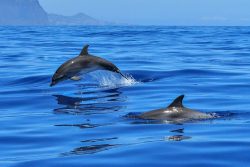 Marbella samt andra orter på Solkusten erbjuder utflykter där du kan se delfiner och valar. Oftast är det ett par timmar på båt som du får spendera för att skåda efter dessa fantastiska djur. Det finns flera företag som erbjuder detta. Tack vare att Medelhavet och Atlanten möts, så ger det en unik möjlighet att se delfiner och valar. Det eftersom till exempelvis valarna tar vägen via Costa del Sol. Bland annat passerar det arter som späckhuggare samt andra sorters valar. Dessutom så finns det tre arter av delfiner som etablerat sig i naturparken vid Gibraltarsundet.
Skåda efter valar och delfiner vid Gibraltar sund
Tarifa är det många som gärna besöker. Detta område besöks ofta för att det är extremt bra wind- och kitesurfing här. Dessutom finns det val- och delfinskådning. Bland de valar och delfiner som håller till här finns vanliga och randiga delfiner, grind-, kaskelott och fenvalar samt späckhuggare. Sundet, där de två kontinenterna Europa och Afrika separeras och Medelhavet och Atlanten möts, är rikt på föda för dessa djur.
Ett företag som erbjuder valskådning här är Whale Watch. Detta företag har dessutom inget vinstintresse. De vinster som de gör går till forskning för miljön och valdjur. Du kan läsa mer om detta företag på denna sida.
Delfinsafari
Det finns flera olika företag som erbjuder delfinsafari eller val- och delfinskådning. Bland de som ligger i topp på Tripadvisor just nu är dessa:
Dolphin Spotting & Sailing Charters Fuengirola Malaga Trips, Bombay Sapphire, Fuengirola
Red Tide Charter Puerto Banus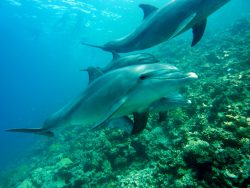 Andra företag är dessa:
Marbella / San Pedro:
Born to be Wild
Gibraltar / Tarifa:
www.dolphinsafari.gi
www.whalewatchtarifa.net
www.firmm.org
De flesta erbjuder turer mellan maj till november. Det beror en hel del på vädret med. Den allra bästa tiden för att se olika valdjursarter är när de får ungar, som oftast sker i september.
Vad det är för typ av båt du åker med och hur lång turen är, varierar mellan de olika företagen. Det finns båtar med och utan glasbotten, sittplatser ute och inne och så vidare. Kostnaden varierar även det beroende på tur och företag. Det är dock en fantastisk upplevelse oavsett vem du åker med.
Olika arter av valar och delfiner
Den bästa turen för att se olika arter av delfiner och valar är den som utgår från Tarifa där Atlanten och Medelhavet utanför kusten möts. Här finns bland annat grindvalar – eller pilot whales, som de heter på engelska. Världens näst största levande varelse är fenvalen och den går att se i vattnen utanför Tarifas kust. Med sina upp till 22 meter är denna val lätt längre än båten du åker ut med. Varje säsong korsar 90 fenvalar Gibraltarsund och utöver denna art finns det även chans för att se tre andra valarter samt även tre olika delfinarter. Vad man ser skiljer sig åt mellan turerna.
De två största valarterna i Gibraltarsund är kaskeloten, som kan bli upp till 18 m lång, samt fenvalen, som kan bli upp till 22 meter lång.
De delfiner som finns att se i dessa vatten är vanlig delfin, flasknosdelfin och randig delfin.