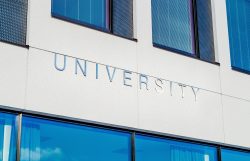 Om du vill studera på högskolenivå i Spanien så finns det totalt 70 universitet att välja på, 50 statliga och 20 privata. En del av dessa hittar du på Solkusten. I Spanien är det oftast så att det inte går läsa enstaka kurser, utan det är hela utbildningsprogram som sedan leder till en examen. Spanien har precis som andra länder i Europa deltagit i Bolognaprocessen. Det innebär att akademiska examina är jämförbara.
Systemet för studier vid spanska universitet ser alltså likadant ut som i Sverige, Den bygger på tre nivåer:
Utbildningsnivå                           Examen             Längd
Primer ciclo      Graduo / Bachelors                   3 – 4 år / 240 ECTS
Segundo ciclo  Màster / Master                         1-2 år / 60- 120 ECTS
Tricer ciclo        Doctor               3-4 år 60 ECTS
Läsåret i Spanien är från oktober till juni och det finns två olika terminssystem. Det kan vara två eller tre terminer. Det är den enskilda skolan som bestämmer vilket system de vill använda.
Antagning
Antagning i Spanien är annorlunda mot Sverige. Det är bara antagning en gång per år, på hösten. Det är varje universitet som på egen hand bestämmer villkor för antagning så därför kan urvalskriterierna skilja sig åt.
Ska du studera på primer ciclo utgår man oftast från de sökandes Nota de Corte. Myndigheten UNED (Universidad Nacional de Educación a Distancia) ansvarar för att bedöma och räkna om utländska betyg till ett spanskt Nota de Corte. Du som behöver hjälp med detta kan prata med spanska ambassaden i Stockholm
Antagning till utbildningar på segundo ciclo och tercer ciclo sker främst utifrån tidigare studiemeriter på högskolenivå.
I Spanien finns ingen central antagningsenhet utan du skickar din ansökan direkt till lärosätet. Dessutom är det en avgift, tasa universitaria, som ska betalas. Denna avgift varierar mellan olika universitet.
Det är bra att kontakta antagningsenheten vid det universitet du är intresserad av i god tid. Be dem skicka kurskatalog och ansökningshandlingar. Du kan även gå in på skolans webbplats där det oftast finns utbildningsinformation och möjlighet att ladda ner eller beställa blanketter direkt.
Det går att söka studiemedel från CSN för studier i Spanien. Det finns även flera stipendier som går att söka, dels i Sverige, dels i Spanien.
Utbildningar
Här är de skolor som finns för dig som bor i Marbella och Málaga:
Schellhammer Business School
ESIC Business & Marketing School
Marbella Design Academy
Les Roches International School of Hotel Management – Marbella, Spain
MISS – Marbella International Spanish School
EF Gap Year
Instituto Internacional San Telmo
The American College in Spain
Escuela de Negocio Empresarial Cámara de Comercio Málaga
Snabba fakta för några av skolorna
Schellhammer Business School grundades 2009 av Dr. Edward Schellhammer en schweizisk pedagog, psykolog och bästsäljande författar. Programmen undervisas på engelska och de erbjuder kandidat, master och flera andra program.
ESIC Business & Marketing School finns på tio olika platser i Spanien, samt på två platser i Brasilien. Detta var den första handelshögskolan som grundandes i Spanien. Programmen undervisas på engelska och spanska. Det finns kandidat, master, språkprogram med mera.
Marbella Design Academy är en skola som erbjuder kandidatprogram inom flera humanistiska ämnen.
Även om flera av studierna bedrivs på engelska kan det vara en god idé att kunna spanska. Det finns allmänna kurser från nybörjarnivå upp till mycket avancerad nivå, förberedande kurser inför universitetsstudier och språktest, samt specialinriktade kurser för olika yrken och branscher.