Många förknippar Marbella och Costa del Sol för övrigt som ett ställe att sola och bada mycket på. Så klart stämmer detta, men det är inte det enda du kan göra här. Det finns en mängd friluftsaktiviteter du kan företa dig. Bland annat kan du testa att åka terrängfordon, det finns många turer att välja på från olika företag. det finns även vandring, camping, klättring, besöka grottor och mycket mer. Här i denna artikel får du ett urval av saker som du kan välja mellan. Full information om alla aktiviteter kan du sedan hitta på Tripadvisor.
Canyoning nivå 1
Detta är en rundtur som passar den som inte testat detta innan. Det är en upplevelse utöver det vanliga. Bland annat innehåller turen att gå nerför en kanjon med vattenfall. Det är sjöar, vandring samt rappel på 6 och 12 meter. Turen är på mellan 3-4 timmar.
Jeep Safari
Detta är en tur som är på en halv dag. Du får uppleva en mängd äventyr samt upptäcka vacker natur, från en jeep. Det är olika vägar som körs, ibland är det stopp för bad i floden eller sjön.
Quad (fyrhjuling)
Här får du åka fyrhjuling med en guide och det upp i bergen. En genomgång av hur fordonet ska framföras och säkerhetsregler är det ni börjar med. Sedan är det en tur på ett par timmars körning, med stopp på flera platser.
Fler aktiviteter att göra
Här är en lista på populära aktiviteter från Tripadvisor:
Kart4Fun
RedFly Marbella
Ultra Safari
Experience Box Spain
Kamaga Bike Tours & Rentals
Born To Be Wild
Monte Aventura, Andalucia Ecotours
Jetboat Marbella
Marbella Segway Tours
Bike Holidays Malaga
Nautica Marbella Puerto Banus
Marbella Rent a Bike
La Concha
Marbella Sports Boat
Marbella Buggys
Bra picknicställen
Om du vill ut på egen hand i den fantastiska natur som Marbella erbjuder, varför inte då ha en egen picknic? Det finns flera bra ställen att stanna på för att ha just detta.
Parque Pinar de Nagüeles
Denna populära park är perfekt för barn i alla åldrar. Det finns flera bra gräsytor, lekplatser samt att det även finns områden där ni kan grilla.
Istán Lake
Denna plats ligger bara tio minuter från Marbella och Puerto Banús. En idealisk plats att ha en picknic på. Det är vackert turkosblått vatten, flera sandbanker samt även gräsytor för solning och picknick. Perfekt ställe att ha en avkopplande dag på tillsammans med familjen.
Refugio de Juanar
Det är inte fel att ta sig upp till toppen av La Concha Mountain med utsikt ner till Marbella under er stund med picknic. Dock är det en sex timmars vandring för att ta sig dit. Det går så klart att stanna vid foten av berget i den vackra Juanars naturpark som finns där.
Benahavís flod
Floden rasar ner för berget från byn Benahavís och det är ett ställe som lokalbefolkningen gärna sätter sig för att ha picknick. Här kan du bada, klättra, sola och njuta.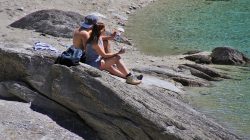 Sen går det så klart utmärkt att ha en picknick på stranden. Det är något som de allra flesta spanjor gärna gör. De tar i stort sett med sig nästan allt från hemma, så som stolar och parasoller, kylboxar, så att de kan njuta av en massa god mat. Du kan göra detsamma!