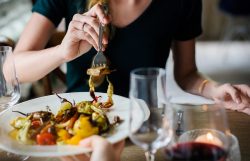 Äta ute i Marbella går alldeles utmärkt, för här finns det gott om restauranger och caféer. De allra flesta restaurangerna finns utmed själva strandpromenaden samt i Gamla Stan. Om det är lunch du vill äta så be om en menu del diá som är lite samma som dagens rätt. Lunch består då av en till två rätter samt ett glas öl eller ett glas vin. Priset varierar för dagens rätt, men ligger runt 10-15 euro.
När det kommer till mattider, så har spanjorerna lite andra tider än vad man är van vid hemma i Sverige. Både lunch och middag äts mycket senare. Det gör att många restauranger i Marbella inte öppnar förrän vid 19-20 på kvällen.
Tips på bra restauranger
La Madrilena är ett ställe som finns på strandpromenaden som är ett mycket bra alternativ. Är ni i Gamla stan har ni restaurang El Patio De Mariscal, med en mycket mysig innergård. Mellan strandpromenaden och Gamla Stan hittar ni gatan Calle Tetuan och på denna gata finns det många bra restauranger. En av de bästa är restaurang Momo.
Tempora är en restaurang i Gamla Stan. Den har högt betyg på TripAdvisor, samt prisvärd mat som smakar mycket bra. Dock kan man få vänta ett tag på maten.
Oak Garden & Grill hittar ni i Puerto Banus. Här är det grillade rätter som dominerar. Det är goda smaker och hög kvalitet på det man blir serverad.
På strandpromenaden vid Playa Fontanilla finns den omtyckta restaurangen The Boardwalk. Mycket mat till bra priser hittar man här.
Piucaro ligger en liten bit ifrån hamnen i Puerto Banus och har bra priser, god mat och är vana vid stora sällskap.
Los Bandidos även den i Puerto Banus anses av många som "ett måste".
Messina är ett ställe med fantastiskt bra mat och de har en stjärna i guide Michelin. Dock är maten mycket prisvärd!
Runt apelsintorget i Marbella finns det många så kallade turistfällor som serverar mindre bra mat, av sämre kvalitet men höga priser. Det finns ändå ett par undantag, som Restaurang Aderezzo som drivs av en krögare som även driver Michelinkrogen Skina. Missa inte heller Paco Jimenez som även den ligger vid detta torg. Det gäller att boka bord, då det är få sittplatser.
›› Vill du ha fler tips på bra restauranger hittar du det här.
Tapas är ett måste
Är man i Spanien så är ju det nästan ett måste att äta tapas minst en gång i alla fall. Det finns gott om tapasrestauranger i Marbella att välja mellan, mer eller mindre bra. En som är riktigt bra och som vi rekommenderar är Tapas y Olé, som ligger vid Avenida del Mar samt Bar el Estrecho som ligger vid Calle san Láranzo.
Tapas är både kalla och varma rätter. Ofta får man in en lista med en mängd olika små rätter. Beroende på hur många ni är så är det olika antal rätter ni behöver beställa in. Det är det som är hela grejen med tapas, att man delar maten med varandra. Ett par olika tapas är bland annat dessa: en skiva vitt bröd med ett pålägg så som skinka (jamón), ost (queso), chilipeppar (pimiento), oliver (aceitunas), korv (chorizo), olika typer av fisk (pescado). Även potatisomelett (tortillas), köttbullar med sås (albondigas), bläckfisk (calamares), samt mycket mer därtill!