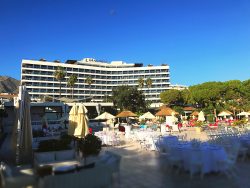 Det finns över 600 olika hotell i och omkring Marbella. Därtill kommer givetvis möjligheten att hyra ett helt boende via t.ex. Airbnb eller liknande. Hotell i Marbella är relativt billigt, och vi rekommenderar att man väljer ett 5-stjärnigt eller minst 4-stjärnigt hotell för att det ska vara en bra nivå på boendet sett utifrån ett svenskt perspektiv.
Hyr man ett helt boende finns fördelar som att man t.ex. kan ha egen pool eller jacuzzi, men det innebär oftast att man sköter mathållningen helt själv vilket kanske tar bort en del av semesterkänslan om man missar chansen till härliga hotellfrukostar. Är man ett stort sällskap och delar på ett stort hus, har det ju ibland fördelen att man kan dela kostnaden och hushållsuppgifter men det allra vanligaste är fortfarande att man för sin semester väljer att bo på hotell.
Hotell i Nueva Andalucia
I närheten av Golfdalen Nueva Andalucia finns endast två stycken olika 5-stjärniga hotell, Gran Hotel Guadalpin Banus och The Westin La Quinta Golf Resort and Spa.
Man ska dock komma ihåg att avstånden inom Marbella är väldigt korta och det går vanligtvis mycket enkelt att ta sig från ena sidan stan till den andra med bil. Under lågsäsong är trafiken sällan påtaglig förutom under rush hour tider. Sommarhalvåret, med start under april i samband med påsk, är det betydligt mer trafik och hög beläggning på hotellen i Marbella så det kan vara idé att boka i god tid. Vissa månader under t.ex. påsk och högsäsong uppgår uppbokade-graden för hotell i Marbella till galna 98%.
Bästa hotellen vid Golden Mile, Marbella
Tre av de bästa hotellen i Marbella-området är hotellen Gran Melia Don Pepe och Marbella Club Hotel Golf Resort & Spa samt Puente Romano Beach Resort & Spa Marbella som kan vara väl värda att testa. Prisnivån för de här hotellen är dock högre än andra då de håller en hög nivå på både rum, service och mat.
Rekommenderade hotell i Marbella
Har du fortfarande svårt att veta vad du ska boka för hotell så rekommenderar vi dig att läsa vår guide till hotell i Marbella för några utvalda hotell där vi har provbott och kortfattat ger vår uppfattning om hotellet, mat och läge. På så sätt kan du förhoppningsvis bespara dig lite tid genom att välj bort hotell som inte är lämpliga för dig eller din familj.
›› Läs mer om våra rekommenderade hotell här.
Hitta billiga hotell i Marbella
Det finns en helt del billiga hotell i Marbella. Dock är vår rekommendation att välja hotell med minst 4 stjärnor. Det finns fortfarande i varierande prisklass. Dock bör man komma ihåg att man till stor del får vad man betalar för, vilket innebär att man vid lägre priser ofta får göra avkall på något. Fräschheten är väl det sista man vill avstå men ibland kan gångavstånd till saker vara mindre viktigt om man t.ex. har egen bil.
– Prisvärda hotell i Marbella hos Hotels.com – Här kan du hitta ALLA prisvärda hotell i Marbella
– Hotell i Marbella på Booking.com – Boka fina golfhotell i Nueva Andalucia, San Pedro och övriga Marbella
– Reseguide till Marbella
– 7 utvalda bra hotell i Marbella